In order to transport trolley generator sets or mobile generator sets across most terrains for immediate power supply, they are trolley mounted.
IMPORTANT FEATURES OF OUR MOBILE GENERATORS INCLUDE WEATHER-PROOFNESS, SOUND ATTENUATED, MANEUVERABILITY, AND MOBILITY.
The gensets may be moved effectively depending on the site conditions thanks to DOUBLE SIDES FORKLIFT POCKETS AND A LIFTING EYE HOOK FOR CRANES.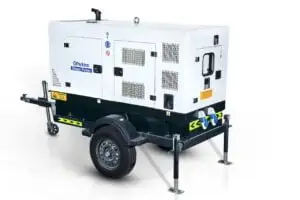 For applications where you need power on the move, like mobile chillers, food trucks, medical supply vehicles, containerized homes, etc., WPS World power solution provides clip-on generators which can be attached directly to your vehicle.
A reefer container can be powered while being transported or when there is no access to shore power with the help of a new clip-on genset.
These reefer container additions are perfect for catering, special events, and temporary (extra) chilling capacity. The clip-on gensets are perfect during transit because the container can still be moved.