John Deere Diesel Generators
John Deere is a renowned American brand and powers a variety of industries with versatile and efficiently engineered engines.
It has extensive distribution all around the world and is a renowned partner to power generation companies worldwide.
Due to its high performance, low maintenance cost and value for investment, John Deere generators are the perfect choice for many.
John Deere generators provided by WPS are manufactured in France.
John Deere Closed Type Generator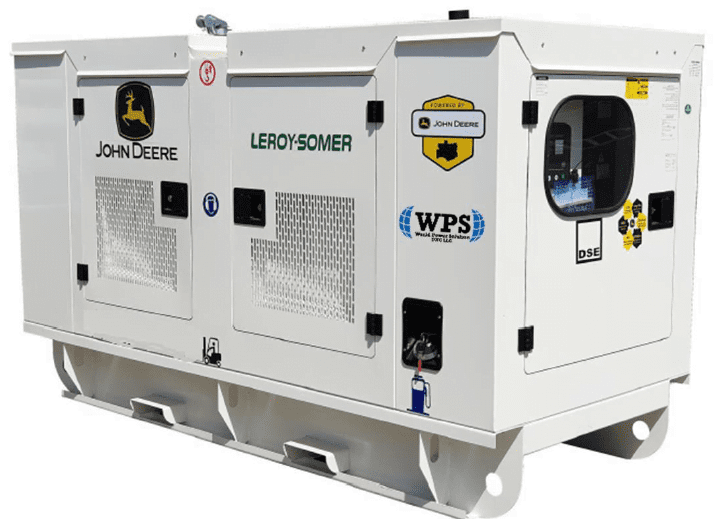 John Deere Generator Model
Rating
 
KVA
KW
Generator Model
JD Engine
Leroy Somer Alternator
RPM
Prime
Standby
Prime
Standby
WPSJ-44S
3029TFU20
TAL042F
1500
40
44
32
35.2
WPSJ-75S
4045TF158
4045TF158
1500
68
75
54
60
WPSJ-88S
4045TF258
TAL044B
1500
80
68
64
70
WPSJ-110S
4045HF15
TAL044D
1500
100
110
80
88
WPSJ-137.5S
6068TF258
TAL044H
1500
125
137.5
100
110
WPSJ-165S
6068HF158
TAL044J
1500
150
165
120
132
WPSJ-200S
6068HF258
TAL046B
1500
180
200
144
160
WPSJ-220S
6068HFU20
TAL046B
1500
200
220
160
176
WPSJ-275S
6068HFU55
TAL046D
1500
250
275
200
220
WPSJ-330S
6090HFU84
TAL046F
1500
300
330
240
264
John Deere Open Type Generator
John Deere Generator Model
Rating
 
KVA
KW
Generator Model
JD Engine
Leroy Somer Alternator
RPM
Prime
Standby
Prime
Standby
WPSJ-44
3029TFU20
TAL042F
1500
40
44
32
35.2
WPSJ-75
4045TF158
4045TF158
1500
68
75
54
60
WPSJ-88
4045TF258
TAL044B
1500
80
68
64
70
WPSJ-110
4045HF15
TAL044D
1500
100
110
80
88
WPSJ-137.5
6068TF258
TAL044H
1500
125
137.5
100
110
WPSJ-165
6068HF158
TAL044J
1500
150
165
120
132
WPSJ-200
6068HF258
TAL046B
1500
180
200
144
160
WPSJ-220
6068HFU20
TAL046B
1500
200
220
160
176
WPSJ-275
6068HFU55
TAL046D
1500
250
275
200
220
WPSJ-330

6090HFU84

TAL046F
1500
300
330
240
264