Kubota generators are manufactured in Japan and have extremely high quality while being cost efficient.
With superior craftsmanship of Japanese engineers fused with the expertise of WPS, Kubota gensets are respected machines in various industries.
These generators are appreciated for their ease of maintenance, sturdy builds and long service lives.
Kubota Closed Type Generator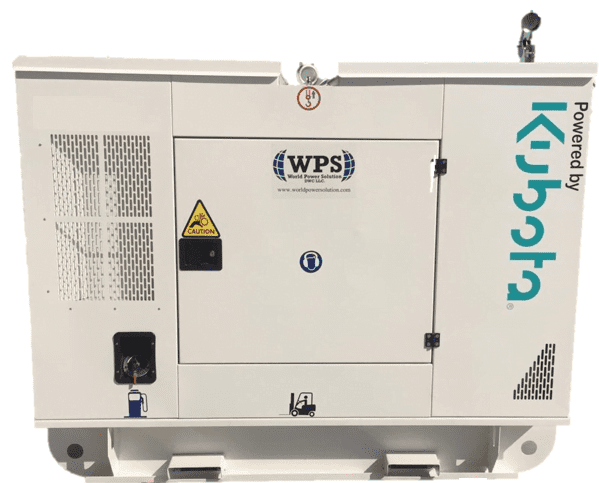 Kubota Generator Model
Rating
KVA
KW
Generator Model
Kubota Engine
Linz Alternator
RPM
Prime
Standby
Prime
Standby
WPSK-10S
D1105-BG2
E1X13SC/4
1500
9
10
7.2
8
WPSK-15S
V1505-BG2
E1X13ME/4
1500
13
15
10.4
12
WPSK-16.5S
D1703-E2-BG2
E1X13ME/4
1500
15
16.5
12
13.2
WPSK-22S
V2203-E2-BG2
SLT18MD
1500
20
22
16
17.6
WPSK-33S
V3300-E2-BG2
PRO18SC/4
1500
30
33
24
26.4
WPSK-40S
V3300-T-E2-BG2
PRO18ME/4
1500
36
40
28.8
32
Kubota Open Type Generator
Kubota Generator Model
Rating
KVA
KW
Generator Model
Kubota Engine
Linz Alternator
RPM
Prime
Standby
Prime
Standby
WPSK-10
D1105-BG2
E1X13SC/4
1500
9
10
7.2
8
WPSK-15
V1505-BG2
E1X13ME/4
1500
13
15
10.4
12
WPSK-16.5
D1703-E2-BG2
E1X13ME/4
1500
15
16.5
12
13.2
WPSK-22
V2203-E2-BG2
SLT18MD
1500
20
22
16
17.6
WPSK-33
V3300-E2-BG2
PRO18SC/4
1500
30
33
24
26.4
WPSK-40
V3300-T-E2-BG2
PRO18ME/4
1500
36
40
28.8
32